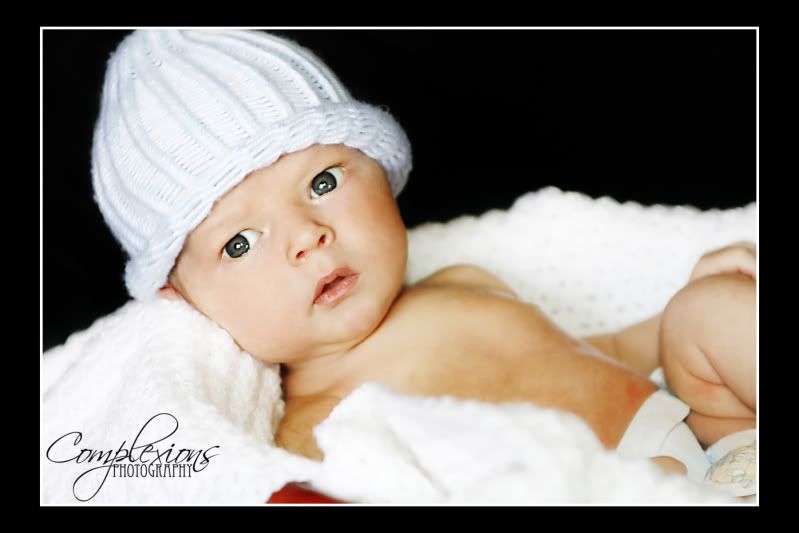 I had Porter's baby pictures taken on Monday. My friend Jaelyn took them and she did a great job. Porter is such a beautiful newborn. At his two week appointment, on Monday, he was 8 lbs 11 oz, and 21 in long. He's eating well, and growing big. I'm excited to have a chubby baby. They are so cute. We have his days and nights in order now, so I'm getting much better sleep between his feedings.
His bothers love him. I'm surprised that they aren't jealous. They want to hold, and help as much as possible. Hyrum was sick with a cold right after we brought Porter back from the hospital. We had to keep Porter away from Hyrum. It was so sad. But now that his health has improved he's held Porter a few times, and he is just tickled pink. If you tell Hyrum "You're so cute", he replies, "No baby Porter cute". Noah's already praying for him Hyrum and Baby Porter to serve missions.
I feel so blessed to have a healthy baby, and to be back to my old self again. Everyday, a couple times a day, I say "I'm so happy not to be pregnant anymore"! Being pregnant helped me realize that I took my healthy body for granted. I can't wait to start running, when the weather improves, and my cold goes away. Thanks to everyone who has helped us out, or offered to help. We appreciate the meals that were brought over from friends and family. And thank you for the baby gifts. We are well taken care of.